JUNE 16, 2017
Location :
France
Exterior temperature :
Bit hot
Weather :
Sunny
Plane being so early the next morning, I had to book a cheap room in a lowcost hotel near the airport.
Off to Paris by the train then, around 7pm.
A few minutes after departure I
saw a deer in the woods near the train track
, no time to reach for the camera, still : good omen (I decide) !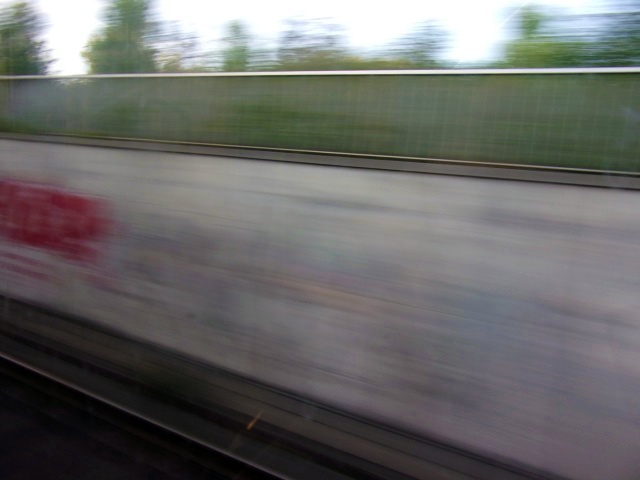 8pm, I'm in Paris, well in the underground. It's frantic, so many people, so much speed in all directions, it's warm, it's damp. I reminds me why I left this city 8 years ago.
Half an hour later i'm in a new version of the regional express network (just a name really...) train.
There are talks behind me in some eastern European speech : Russian maybe ? Also next to me, two adults and a kid, them it's in German. Love it really,
can't wait to hear them Scots tomorrow

!
Out of the window the north part between Paris and the airport is as bleak as ever, except for the sunny weather :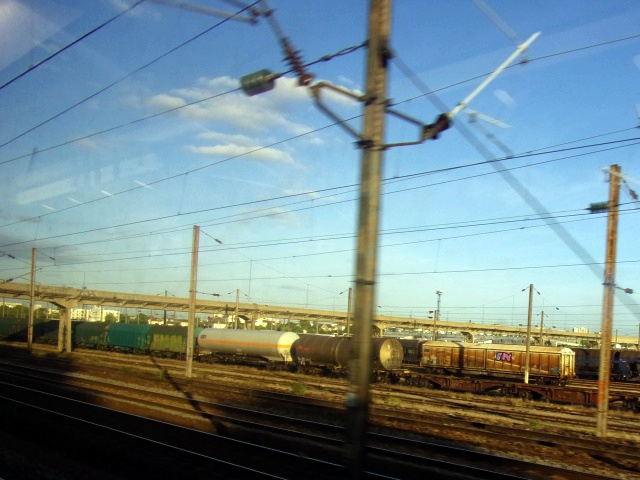 9pm I reach the cheap lowcost hotel. Everything is automated almost.
I "laugh" (I wish) at the way the electricity plug is situated, too high (like 5 feet from the ground) and without anything underneath. I need to recharge my phone : it's thus hanging all night because the power cord is short, I place a pillow on the ground just in case...

Early morning of JUNE 17, 2017
Location :
France then U.K.
Exterior temperature :
ok
Weather :
I don't remember
My alarm wakes me up at 4.40am

!
My phone is still hanging, good !
I do everything fast, yet still in a sort of slumber
!
Shuttle drops people at the airport around 5.30am.
I still can't get used to how big that airport is, sometimes from one place to another you need to take a little train, like between terminals. I wish the picture below would do justice also to its verticality :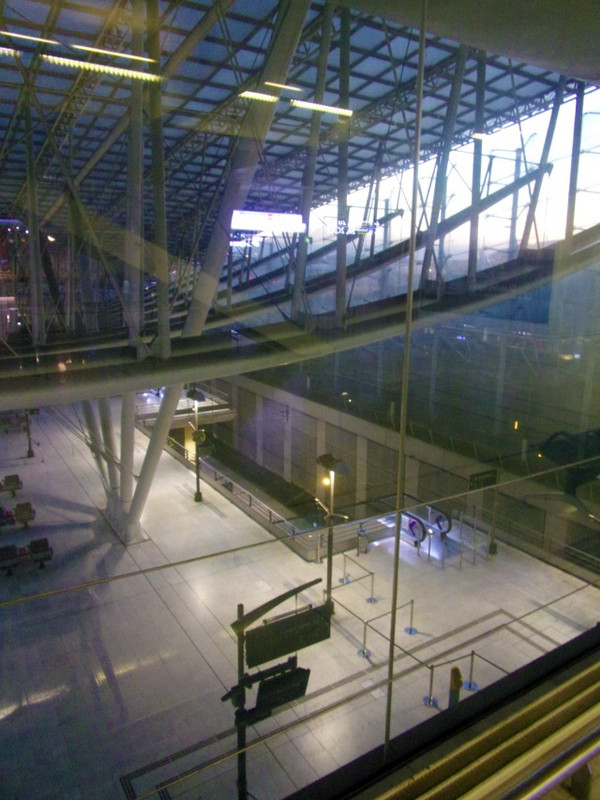 At the security check I start beeping at the metal detector
even though I took off everything

:
"-Wait what ??? That a joke or what ?"

!
:
"-Take your shoes off please !"

:
"-I... have... metal... in my shoes ???"
:
"-Yes... We'll show you at the scanner if you want !"

:
"-Eeerr... OK !"
I take my shoes off...
I look at the screen, so it happens I have a long thin metal bar in the sole of each of my shoes that I, after all those years, wasn't aware off.
Have I been in danger everytime I was wearing these shoes outside whenever there was a storm

???
Anyway... Around 6am I'm at the boarding gate :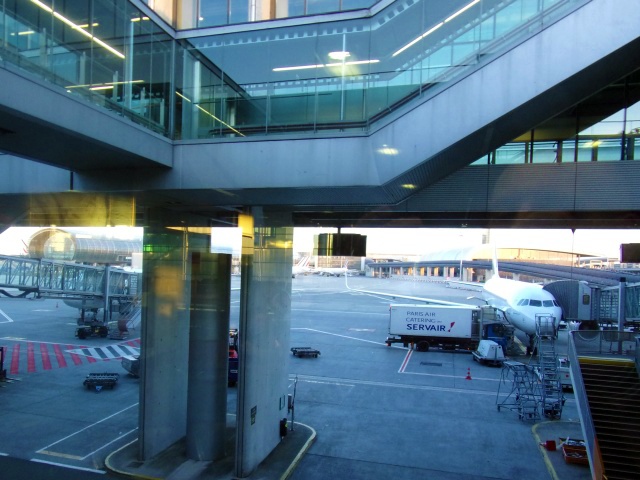 Lift off around 7.30am :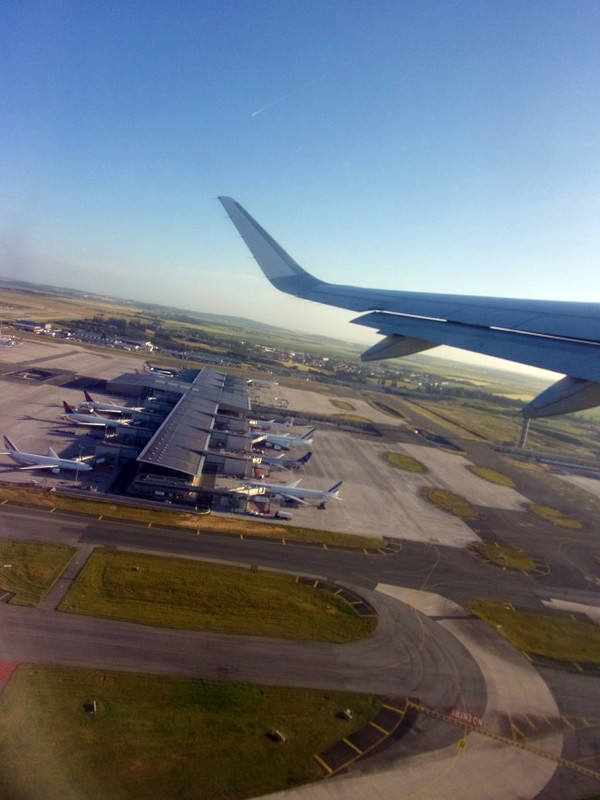 Reaching the sea, goodbye France
, and go back one hour on my watch, it's 7am again

: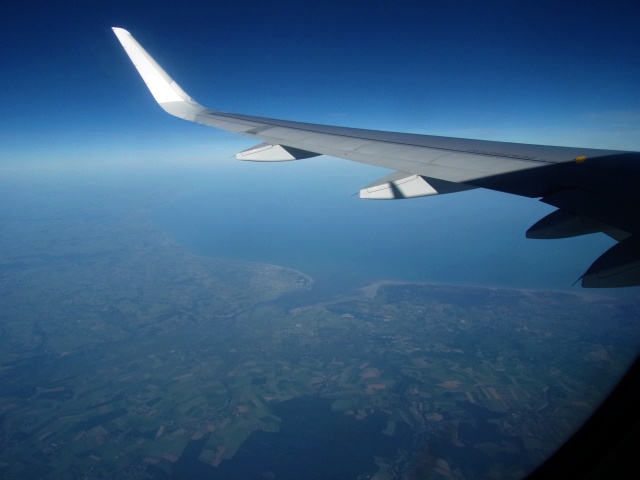 Then reaching the U.K. :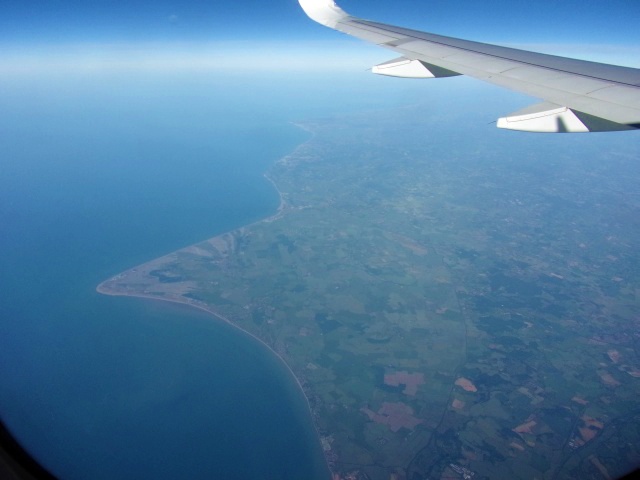 Oh those clouds :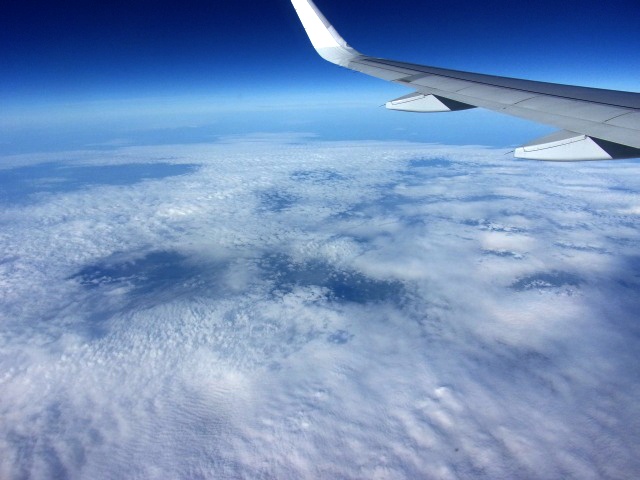 Took this pic below because it reminded me the cover of an old CD.
Also it's really pretty :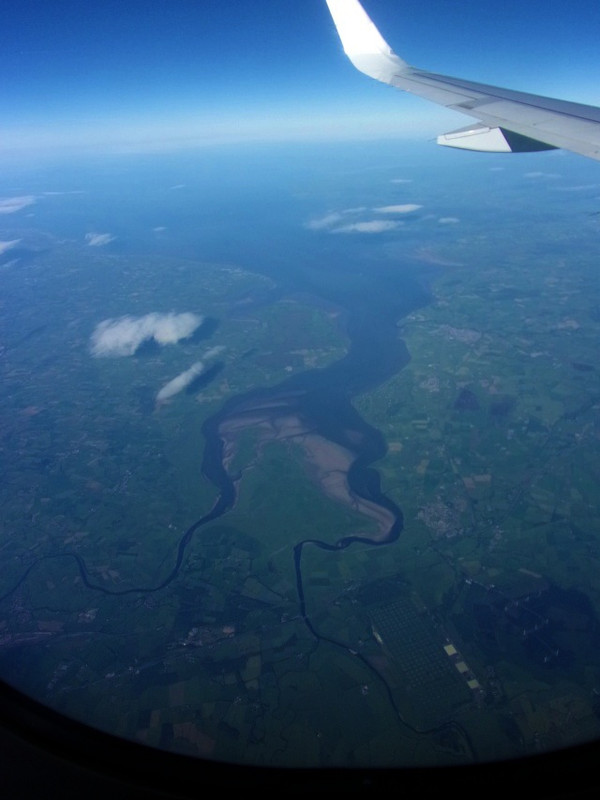 Morning of JUNE 17, 2017
Location :
Scotland
Exterior temperature :
SO nice !
Weather :
Started a bit cloudy then super nice !
We must now be above
Scotland
, this below is a clue !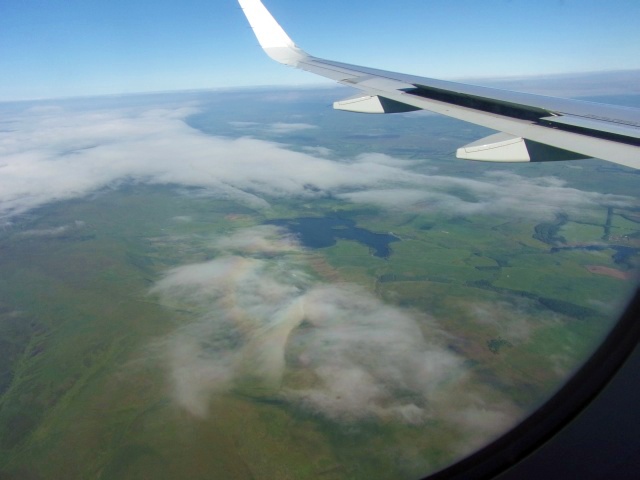 Look closer, this is
LOCH SPACE INVADER

!!!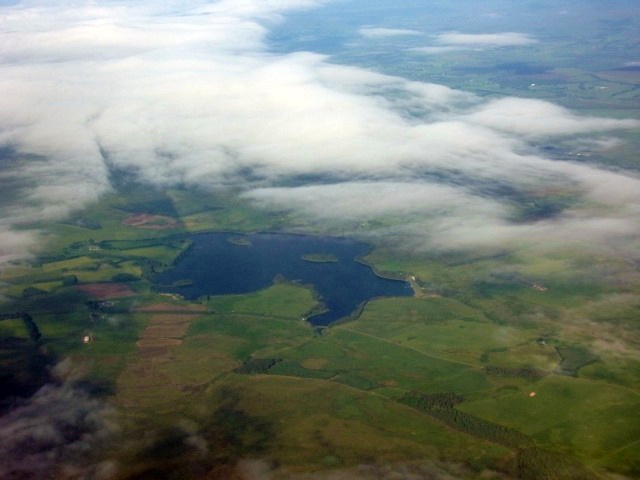 And then right before Edinburgh, the "LAYER" :
We dive through it (and
I promise
I haven't photoshopped the colours off :
#NoFilter
) :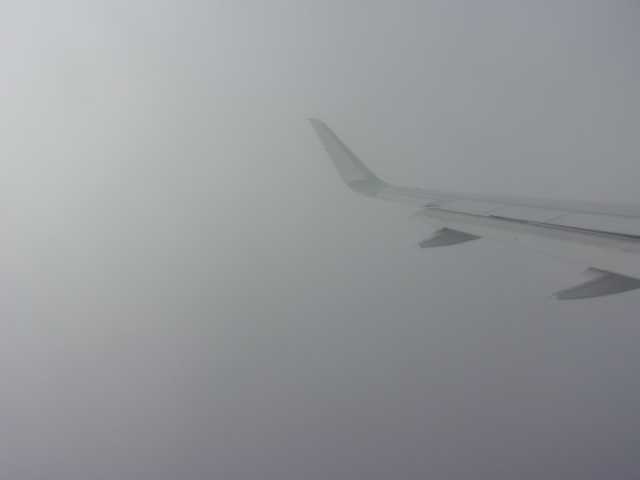 And then, finally, we "emerge" below,
victorious
: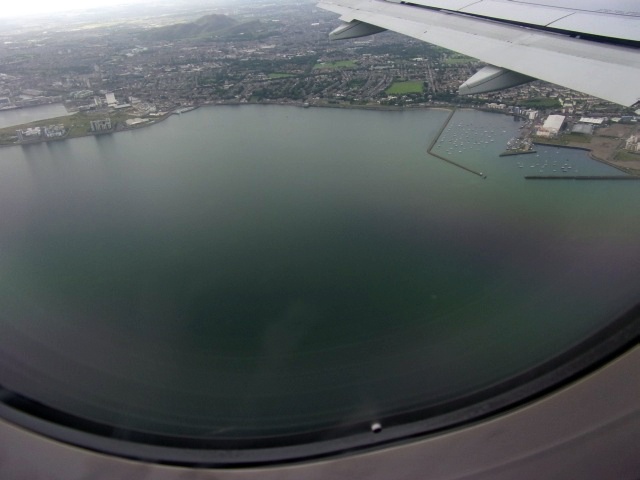 Also I don't know who took that picture, because I don't remember taking it, so it must be
accidental
, but still it's pretty, so here, right before landing :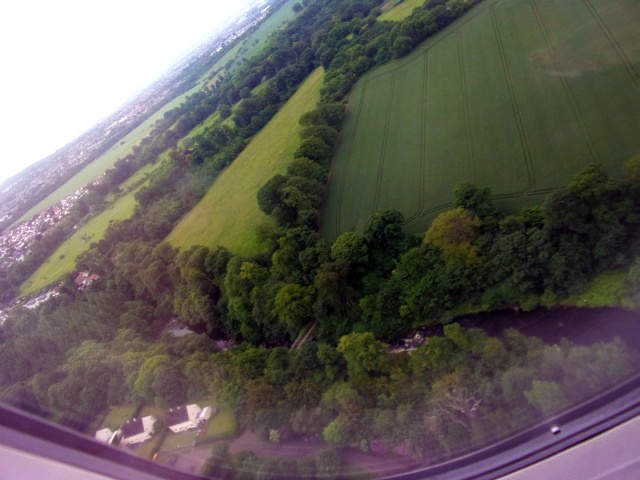 And then touchdown
: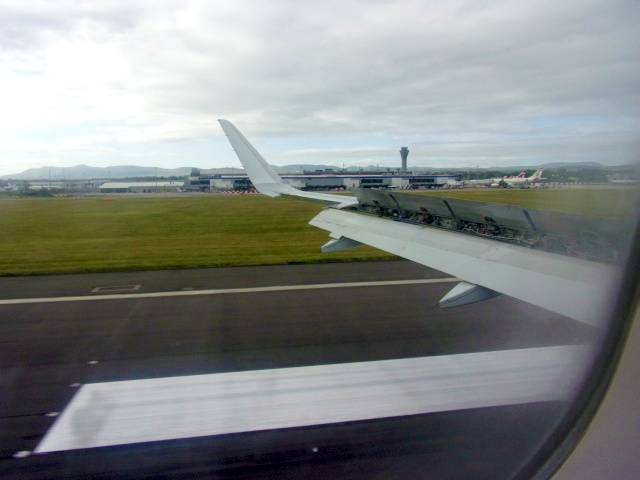 Still morning of JUNE 17, 2017
Location :
Scotland
Exterior temperature :
SO super nice !
Weather :
Sun is starting to gain on white clouds !
Double deck shuttle to Edinburgh

: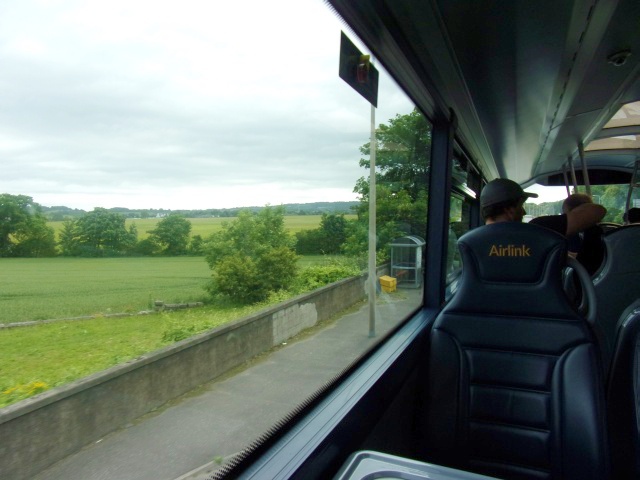 OK that castle here, it's BIG, like really big.
It doesn't seem on the picture, but it's because it's far.
No really, it's BIG :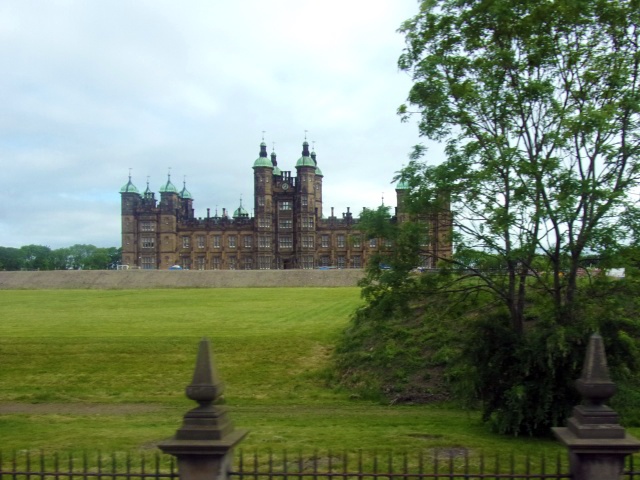 The shuttle destination is in the middle of the city.
Oh some houses in there : wow !

There is some serious real estate in Edinburgh really

!!!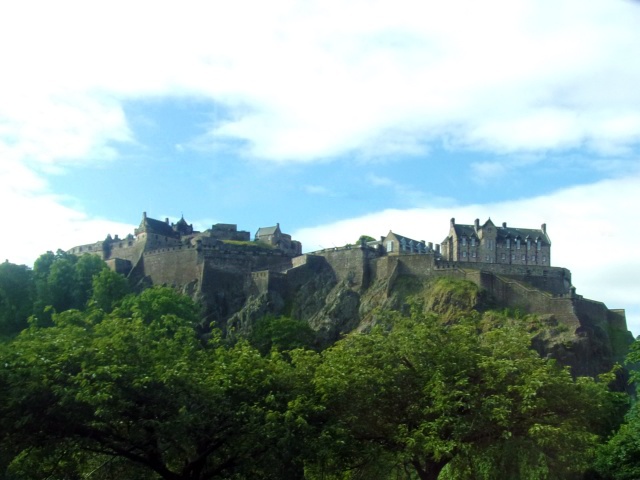 And then when turning around I saw
this thing, super cool looking
: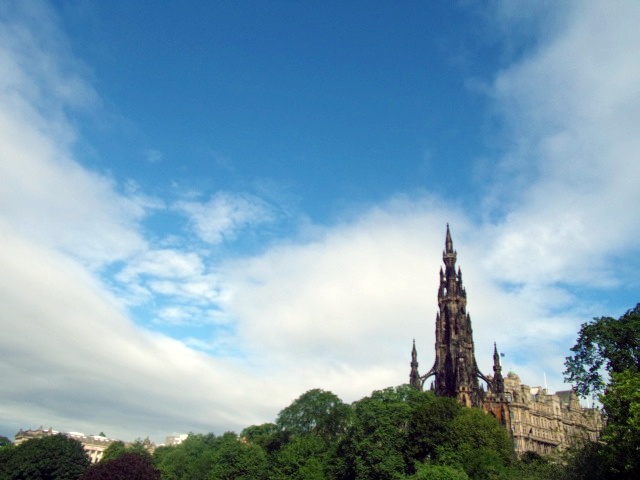 And got closer. (
google street view
)
You know it's kind of those towers in fantasy games.
You know what I mean, they give a bonus each turn to your undead armies, and with enough crystals you can even summon some gigantic...
Hahem...
Ok well you get the idea...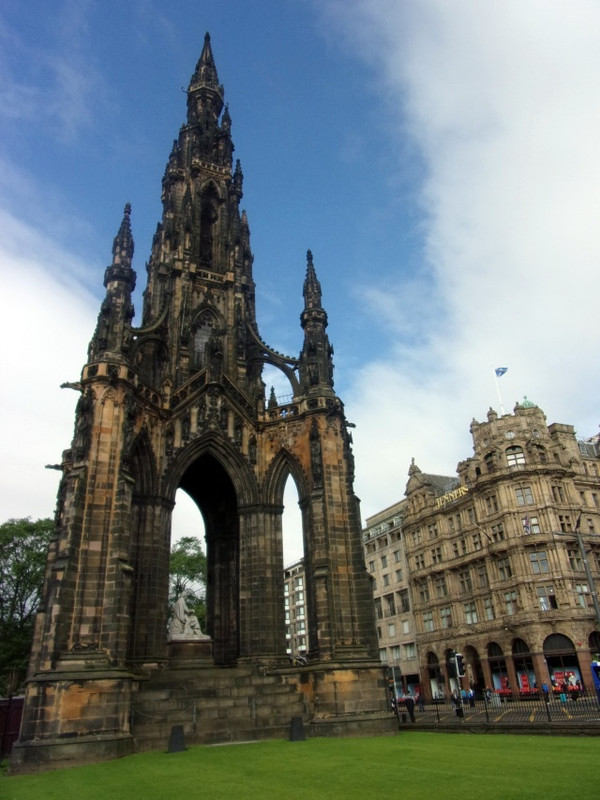 Edinburgh looks super nice
, I need to come back with more time on my hands to fully explore.
Around noon of JUNE 17, 2017
Location :
Scotland
Exterior temperature :
perfect !
Weather :
sunny with a few white clouds : perfect !
I had heard there was a
beach in Edinburgh
, and I wanted to see the sea.
This beach is called "the promenade" !
Delighted

: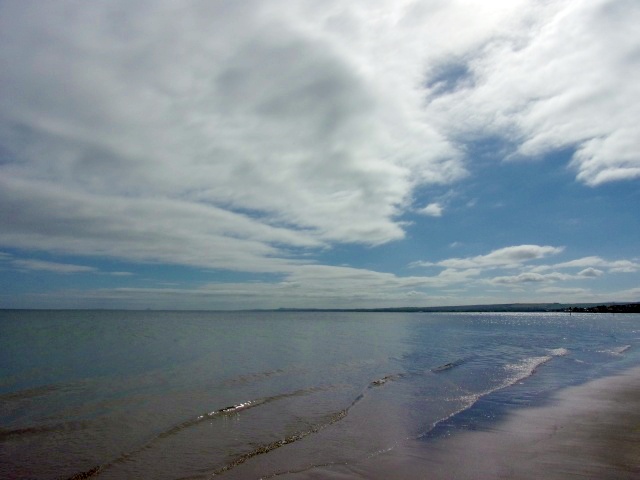 Now see this thing below, well it's supposed to be an octopus hanging on the pole :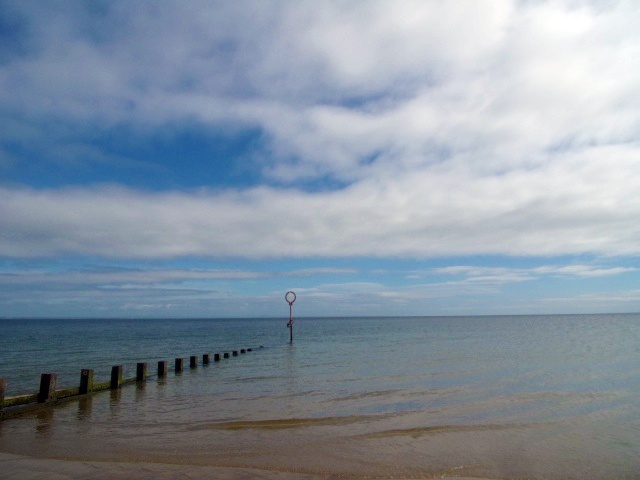 I tried to zoom but since
I suck quite a lot at taking pictures
it looks more like a face-hugger from the movie Alien than anything else

:
So hmmm... I guess you'll have to Google it if you're interrested, here are the deets :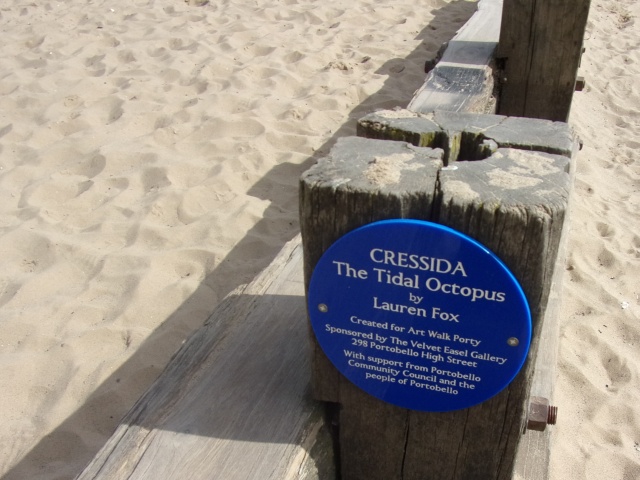 Anyway, this is really really a
super cool place this beach
: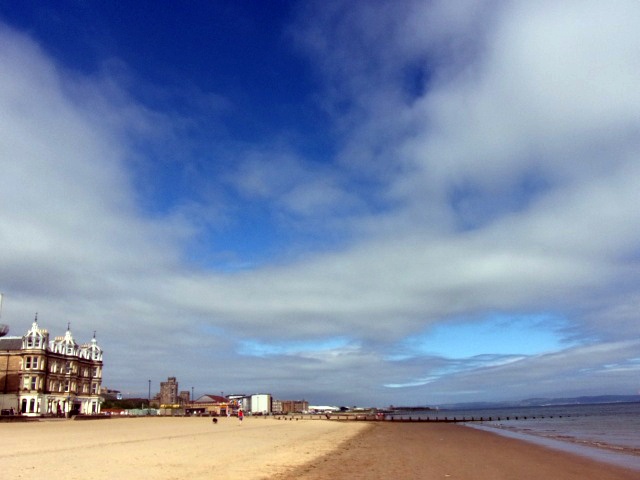 Have to make sure you watch your step though.
Here's an
encounter with another alien lifeform.
Judging by the footprints there was a rabbit there, that evidently got swallowed by the alien lifeform encrusted in the sand.
Traces of the fight can be seen on the right of my shoes : the mark of a giant tentacle...
No wonder there is a tradition for sea (or lake) monsters in that country :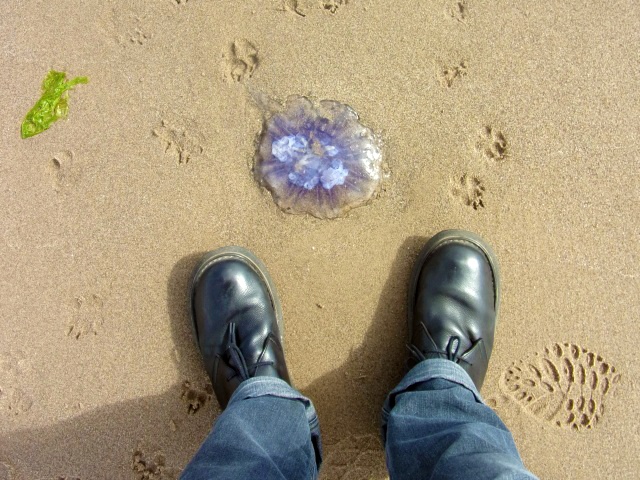 Now, look at the kind of bars they have, overlooking the beach,
#Seriously

: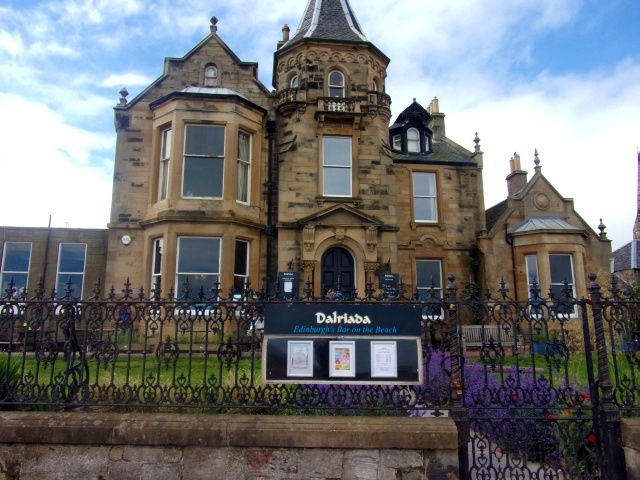 Starting to feel hungry I stopped at a nice place called
"The Espy"
(
google street view
) and treated myself (

) with
Belgium waffles and mapple syrup
, that I totally didn't wipe/rinse/rub the plate with my finger at the end. I made sure noone was watching anyway

: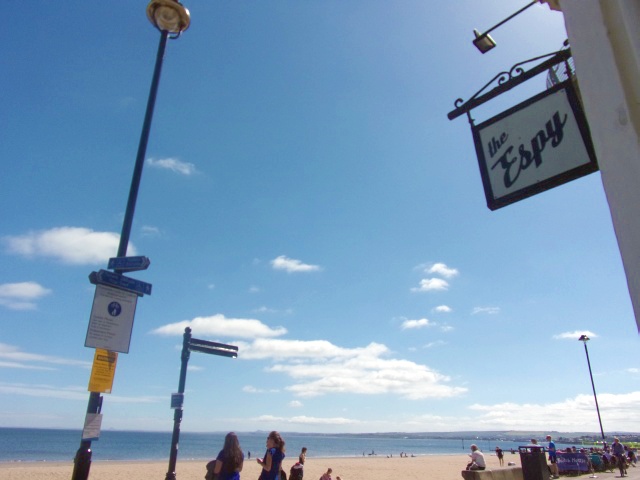 Afternoon of JUNE 17, 2017
Location :
Scotland
Exterior temperature :
Was starting to get a bit hot !
Weather :
very sunny !
Beginning of the afternoon, time to depart to my
final destination, the county of Fife
, north of Edinburgh, across the Firth of Forth estuary. By train :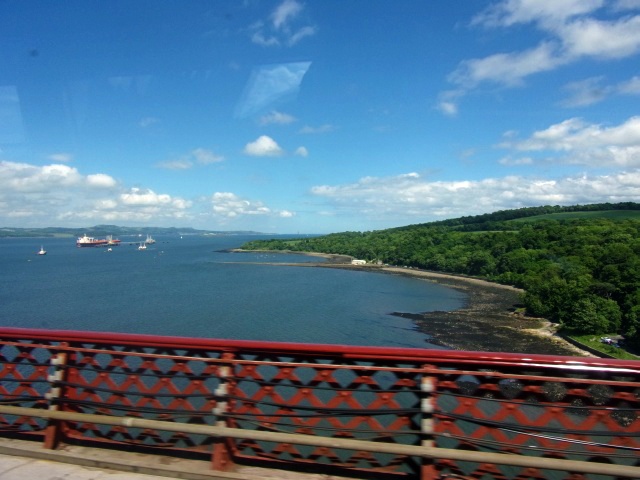 The view is super nice for the whole trip,
most of the train line this afternoon is along the sea
: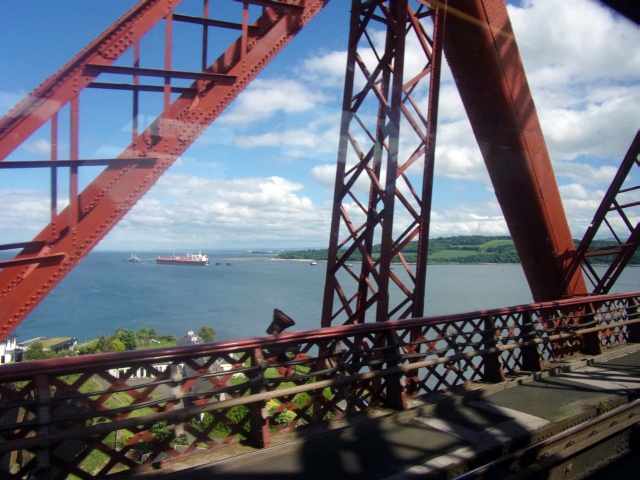 Here on the right, probably some weak attempt by the Scottish tourist office to perpetuate the legend of underwater monsters.
But my seasoned eye sees it for what it is :
a giant robot !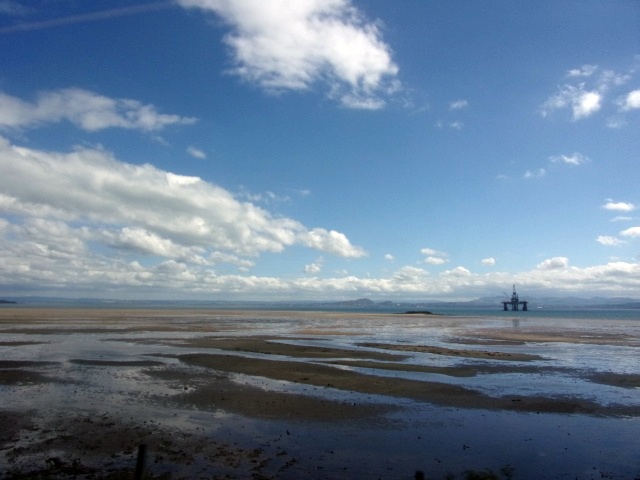 And when the railway isn't near the coast, it is pleasant countryside :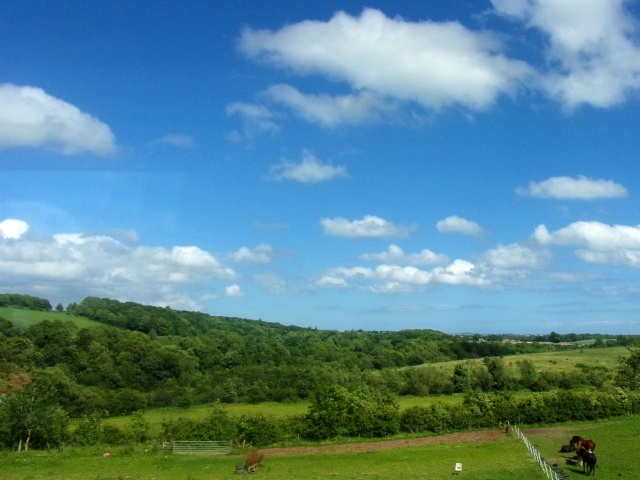 After a very nice one hour train trip I "land" in Cupar and get a taxi to go deposit my stuff in the room I booked for one night.
The place is totally lost and secluded atop a hill near a farm. The cheapest I found, since on a budget, and
it is beau-ti-ful

my picture doesn't do it justice :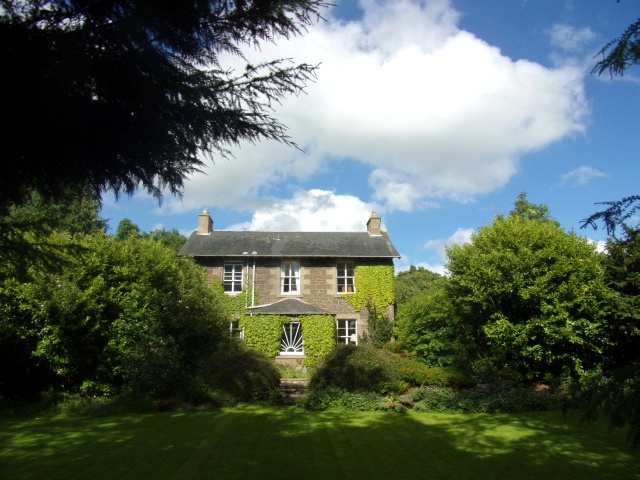 The room too is enchanting, for a few minutes I don't dare touch anything :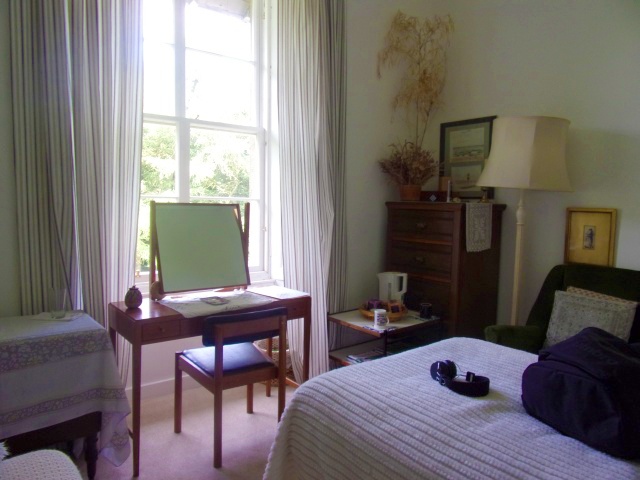 Gigantic garden, mini-wood more like, I'm amazed :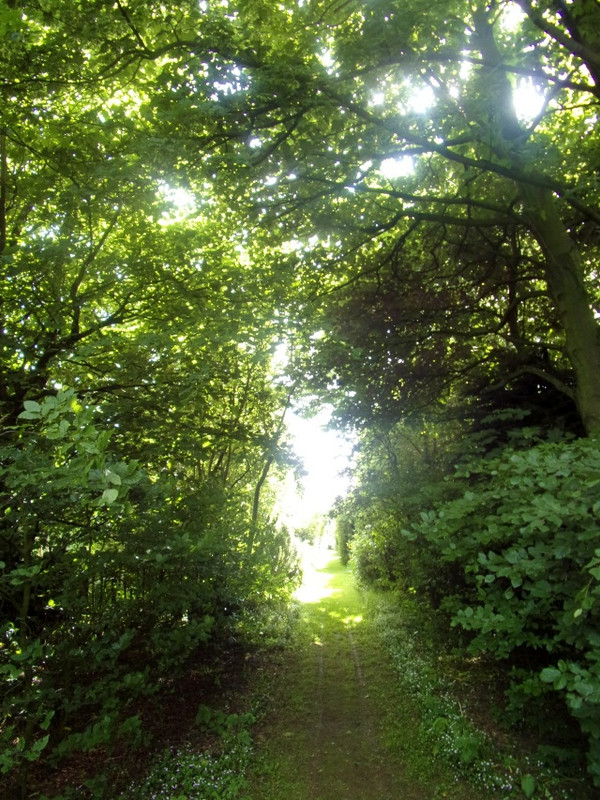 And at the end of the garden,
the view is amazing
, and at the risk of repeating myself, the photos don't do justice to the sight, and also it doesn't feel we're on a height, oh well :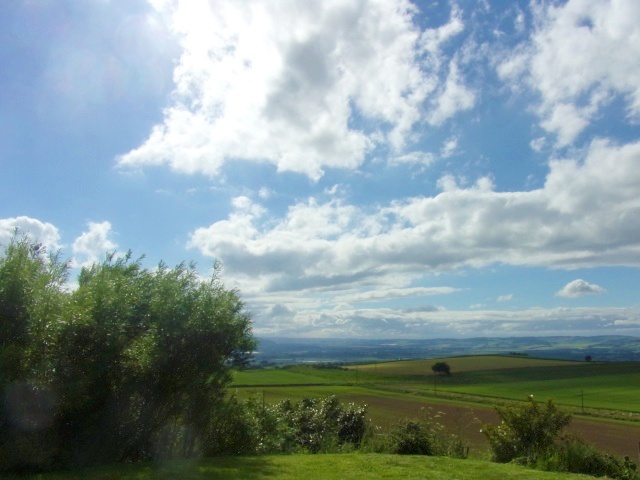 Evening of JUNE 17, 2017
Location :
Scotland
Exterior temperature :
Very nice !
Weather :
Super nice !
This is it

!
The venue.
It's the village hall of Letham (
google street view
) :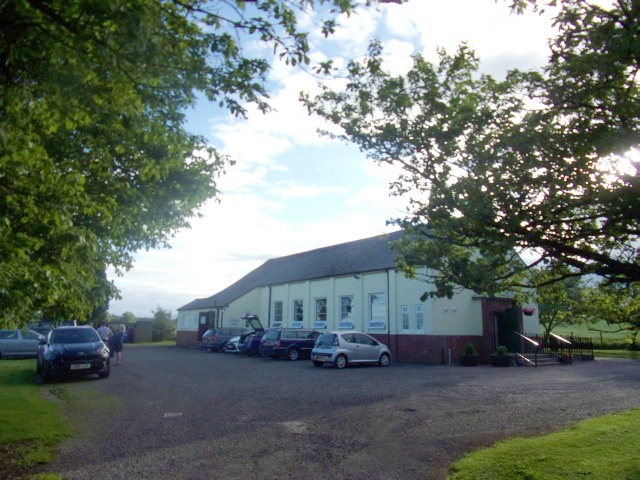 And inside, that day, there is going to be a gig of one of my two favourite singers (you know who the other one is

!) :
Rachel Sermanni

!!!
(Here on the poster, on the left of the Yoga one) :
[INTERLUDE]
Also this time, unlike
last year
, it happens *before* the gig :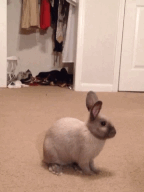 My poor heart... Because [REDACTED] [REDACTED] next to me and I [REDACTED] [REDACTED] [REDACTED].
Now really I [REDACTED] [REDACTED] [REDACTED] and [REDACTED] [REDACTED] but still !
The event is organized by
Letham Nights
, and also the 3 following photos are from them since I can't, for the life of me, take a decent shot during a gig.
So this below is a picture of the first act :
Hannah Jarrett-Scott
.
She sings nice songs and she's super funny in between.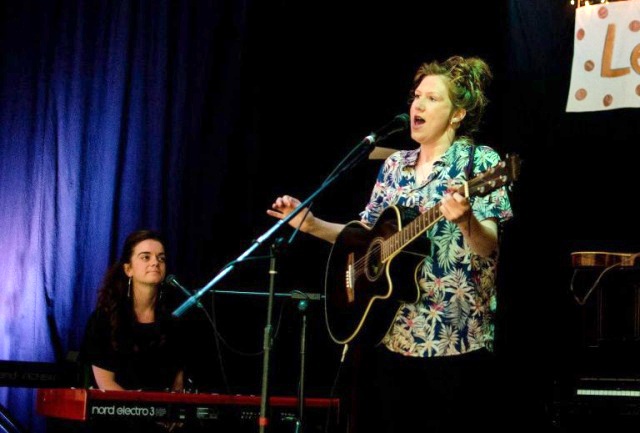 Picture by Letham Nights
And then :
Rachel Sermanni
.
I don't think I'm any good at doing music reviews, so I prefer to point you to
this link
which is a
professional review
of the evening.
Let's just say : me = super happy

!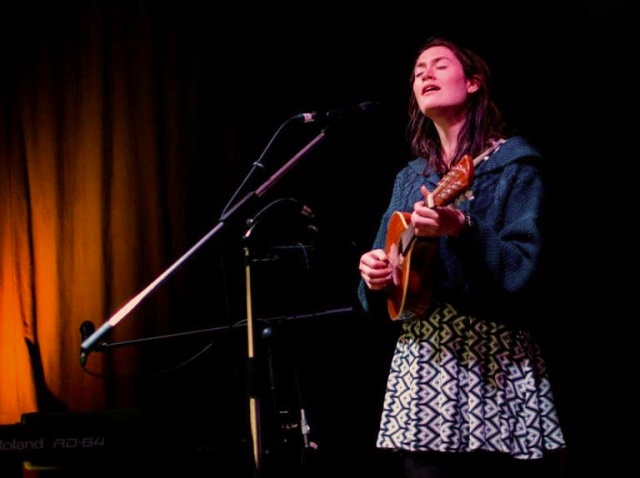 Picture by Letham Nights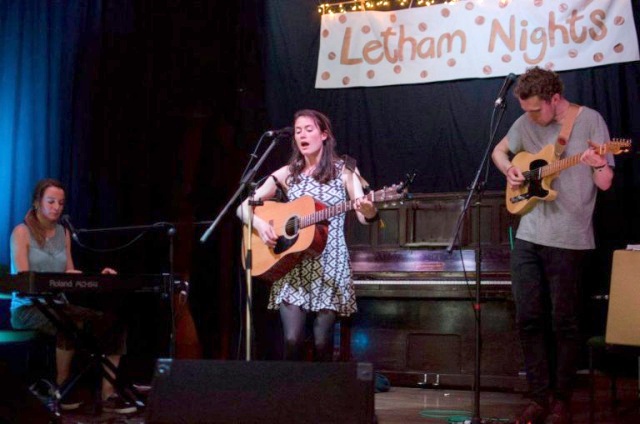 Picture by Letham Nights
Oh wait, one thing though :
she too is extremely funny.
Like she tells us something super positive and cute and stuff, then pauses, then :
"-Here comes a very morbid song."
all with a smile

:
All good things have an end :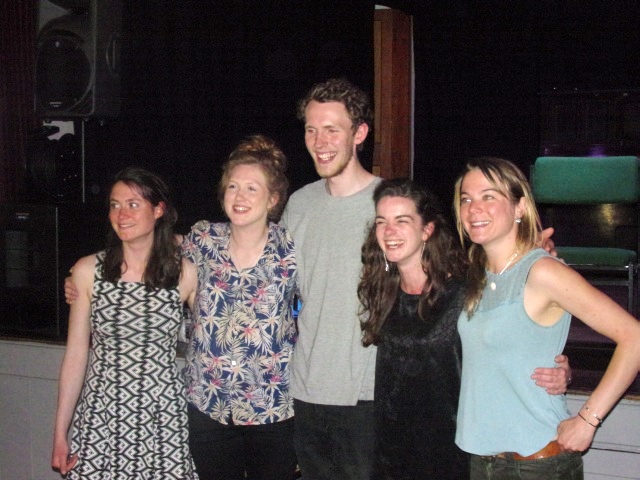 This photo is actually by me ! So there !
From left to right : Rachel Sermanni, Hannah Jarrett-Scott, Thomas Cauldwell, Gill Higgins & Jennifer Austin.
Not on the picture but still part of the gang : Jimi Troup, the sound engineer.

JUNE 18, 2017
Location :
Scotland then France
Exterior temperature :
I don't remember
Weather :
ditto
Next morning, back to Edinburgh by the same railway, this is super nice :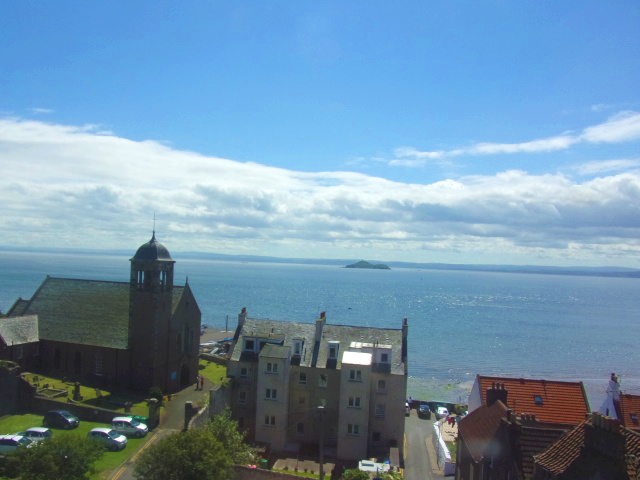 Liftoff :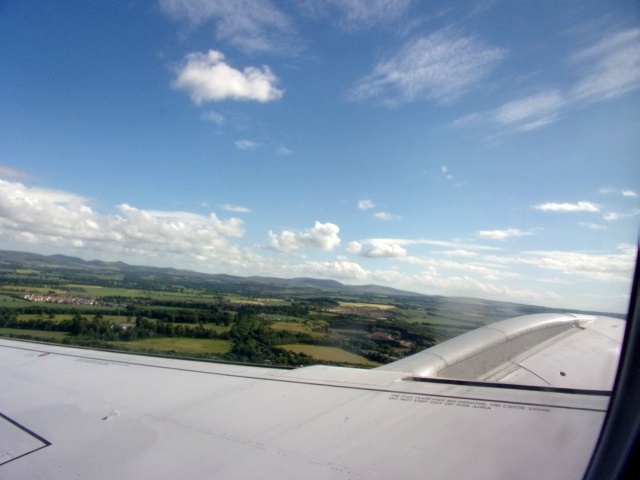 Goodbye Scotland :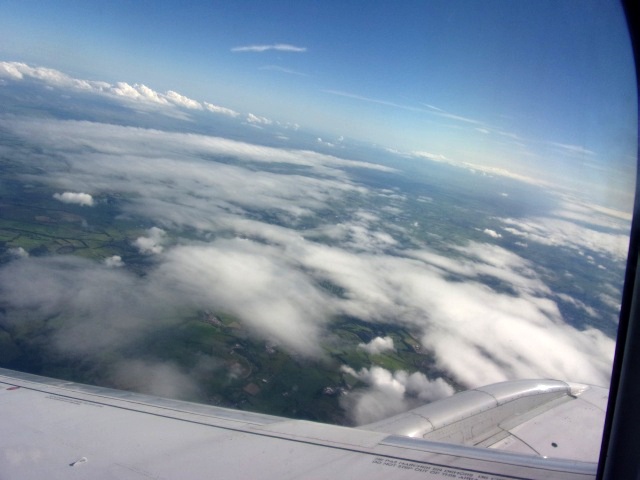 Hello France :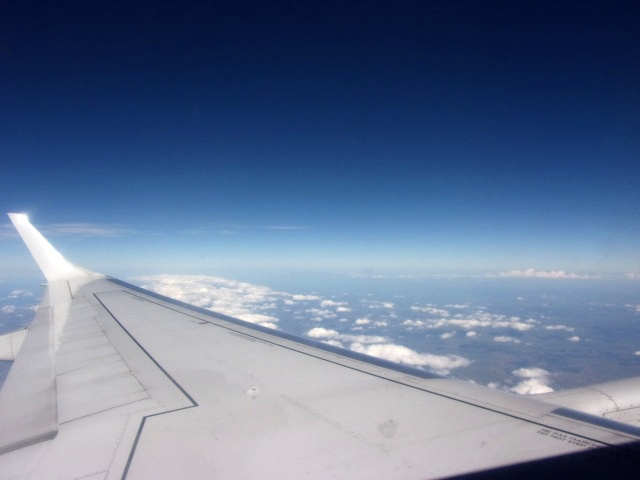 Touchdown :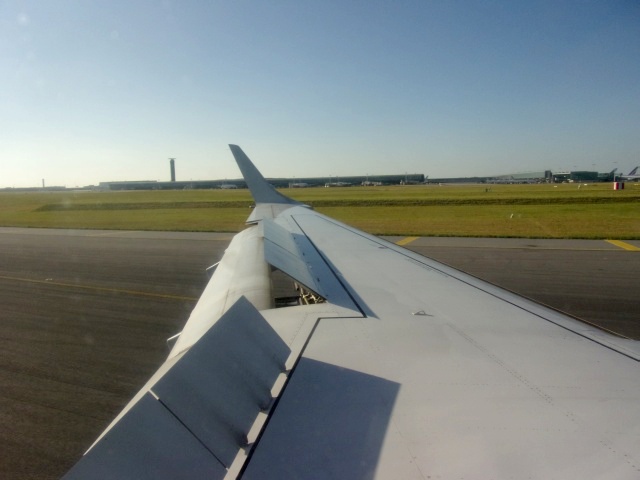 I know one thing, wait no : two...

I would love to see more gigs with Rachel Sermanni AND I want to visit the Highlands !
Speaking of
her gigs
, she's about to start a US tour next monday.
So for those of you in the US that are interrested...

Also guess what ?! I didn't forget anything this time !
I think...